The Class – What do we do?
The Keep Fit Class has been running for well over 40 years and I have been the tutor for the last 33+ of these.
Due to popular demand, I started the Thursday morning class in 1991 and the Thursday evening class on 2 December 1999 - to be precise! Over the years I have ncreased/decreased the number of classes depending on both demand and my own other work commitments.
I have been a member of the Fitness Professionals for many years. They keep me up-to-date with fitness topics, workshops, health issues, safety in exercise, sports injuries etc. Feel free to visit their web site on www.fitpro.com
I am also a member of Choreography2Go, which is a group formed specifically for instructors. This group runs workshops, gives us ideas and an on-line place where we can discuss fitness topics and problems with each other. Invaluable for all instructors.
The classes are well attended and the emphasis is on enjoyment as well as keeping fit.
Where do we meet? -
,At the Bridge Centre, Poldrate, Haddington, East Lothian
When do we meet? -
Tuesday mornings at 9.45 am
Thursday evenings at 6pm
What do we do? - Exercise to Music and Interval Training
A short warm up followed by a minute of aerobic (high or, low impact)- tone - aerobic -tone etc. for about 25 - 30 minutes. This way the heart-rate keeps up and you get fit without realising it. It can be hot work! This is followed by some Fitness Pilates on the floor. We finish with some stretches plus a short relaxation session
In the summer term we do Mini Circuits
Other equipment we use -
Small hand held weights

Resistance bands (rather like a large elastic band, good for adding a bit more resistance to a number of exercises)

Flex bands (can be used for extra resistance in leg, arm, tummy exercises – used a lot in Pilate's classes).

We also sometimes use chairs for a number of our exercises
Meet some of my Tuesday class members from a number of years ago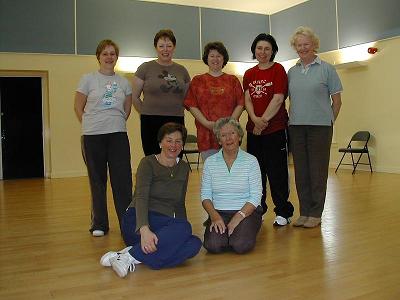 Hand weights, bands and speed ropes! All implements of torture!
For information and to buy equipment, www.physicalcompany.co.uk to contact The Physical Company
Right, are some of the bits of equipment I use in the class to make it more interesting!!!!
For some more information about the history of the Keep Fit Classes please enter here!