The Bridge Centre
The Bridge Centre is a thriving Community Centre, which is housed in the old mill workers cottages and is part of the Lamp of Lothian Complex. The Lamp of Lothian Trust not only look after these buildings but also several other outstanding buildings in East Lothian.
The cottages were extensively renovated and originally converted for community many many years ago.
An extension was added some time later, and more recently a large sound proofed hall and new offices were built in 2000. This was named the Alistair Grant Building. See pictures below.
The Bridge Centre is on the right in this photo.
This was the old mill workers cottages.
Numerous people, both paid and voluntary, work hard to make the centre what it is today. Without these people the centre would be unable to function. The Bridge Centre is no longer run by a Management Committee, but managed by a board of Directors and has a Supporters Group.
The centre is used for a variety of activities from ballet dancing, yoga, music 'gigs' to quilting, keep fit, children's playgroups and after school clubs, to name but a few.
The Alistair Grant Building is sound-proofed, and is perfect to use for the above activities.
The building in the right photo below, is part of the old granary buildings. Pottery, art classes, spinning and lots more are held here.
The Bridge Centre Motor Cycle Project use the top floor of the Poldrate Mill and also the lower building to the left of the Alistair Grant Hall, which is shown below left.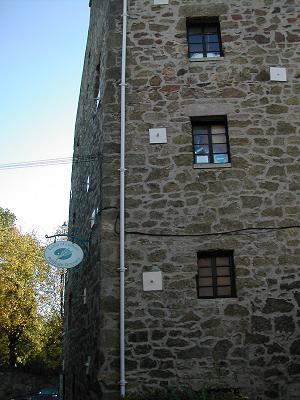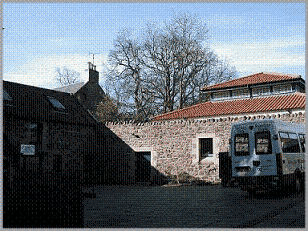 The place is buzzing with activity. Well worth a visit.
Visit our Gallery page to see some more pictures.
For other information about the Bridge Centre and its programme, call 01620 823137
or visit our website : www.bridgecentrehaddington.co.uk
For the Lamp of Lothian & Visual Arts Workshop programme call 01620 823738
www.myspace.com/bridgecentremusicproject to go to the Music Projects web site
www.bcmp.org.uk to go to the Motor Cycle Projects web site